"FOR GEORGE" - a film by Francesca Jaynes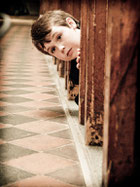 FOR GEORGE is a poignant and gently funny look at three generations of a family as they come together for the funeral of ballroom dancing champion, George.
Seven year old Bobbie is comforted by his own explanation of the great mystery of death - that in fact Great Uncle George has been rescued from the box by Jesus and taken back to Birmingham.  A young nervous Priest begins the day preparing for his first ever funeral mass with the same nerves and expectation of an actor on an opening night.  As the middle generation struggles to find it's way, grief and betrayal threaten to dissolve the glue that holds the family together.
Bobbie and the older generation though, know how to celebrate George's life, and with that wonderful affinity that exists between the very young and the elderly, they set about doing exactly what he would have wanted - dancing.  This is a party that George would not have wanted to miss - and who knows -  maybe he won't.
Director's Statement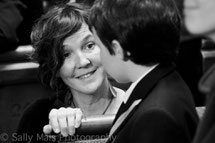 My first thought when writing FOR GEORGE was to try to capture the wonderful innocence of my own son; the way he could cut straight to the core of a complex "adult" subject and approach the great questions without the fear that we all learn later in life.  
As a choreographer, I also wanted to explore the role of dance in our lives, not only as a means of artistic expression, but also as a help through the pain that we all experience at times.  Dance as a celebration is something that the older generation turns to readily. They have a common memory of a time when dance was more central to us all.
In FOR GEORGE I have taken strands of story from my own family to show how the different generations deal with life and death.  From youthful innocence, to middle aged angst, to a calmer and simpler approach in old age.  A funeral is one of those occasions when life seems slightly unreal, and so the movement and body language in the film is heightened to reflect this.  At a time of loss and crisis, dance is helping to bind this family together.